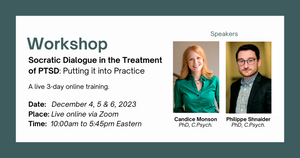 Socratic Dialogue in the Treatment of PTSD: Putting it into Practice (Dec 4-6, 2023), Online
Socratic Dialogue is a core component in the effective delivery of cognitive behavioural therapy (CBT) for Posttraumatic Stress Disorder (PTSD). In fact, the degree to which therapists are skilled in using Socratic Dialogue has been shown to be associated with greater patient improvement. This applied workshop will provide learners with an opportunity to further develop their clinical skills in utilizing Socratic Dialogue in treating PTSD. A brief review of the social-cognitive conceptualization of PTSD and its treatment will be presented, followed by an overview of Socratic Dialogue as a therapeutic stance. Different types of maladaptive cognitions and the Socratic questions aimed at addressing them will be discussed, with a focus on understanding and conceptualizing the cognitive errors that have kept patients "stuck." Additionally, we will discuss the application of these concepts to complex presentations (e.g., addressing issues of intent and responsibility, as well as comorbidities).
The workshop will be highly experiential, incorporating video demonstrations, case material, clinical exercises, and role plays to gain more mastery in the practice of Socratic Dialogue. The workshop will present information rooted in theoretical models of primarily cognitive therapies for PTSD. Accordingly, prior experience delivering CBT for PTSD, or attendance at foundational workshops on related content is strongly recommended.
This workshop is suitable for healthcare practitioners and trainees in psychology, social work, nursing, counselling, medicine, and related mental health fields.

Continuing Education: Candice M. Monson, PhD is approved by the Canadian Psychological Association (CPA) to offer continuing education. The program offers a total of 18.0 contact hours with full attendance. Partial CE credit is not offered. Candice Monson, PhD is responsible for the maintenance of this program. For more information please click here.

Consultation: Individual or group consultation options will be discussed during the training.
More Information: For an overview of the workshop, suggested readings, and learning objectives, please click here.